Mahatma Gandhi Biography
Mohandas Karamchand Gandhi, more popularly known as Mahatma Gandhi, was born in the small city of Porbandar in Gujarat (October 2, 1869 – January 30, 1948). He was a politician, social activist, Indian lawyer, and writer who became the prominent Leader of the nationwide surge movement against the British rule of India. He came to be known as the Father of The Nation. October 2, 2022, marks Gandhi Ji's 153rd birth anniversary, celebrated worldwide as International Day of Non-Violence, and Gandhi Jayanti in India.
Gandhi Ji was a living embodiment of non-violent protests (Satyagraha) to achieve independence from the British Empire's clutches and thereby achieve political and social progress. Gandhi Ji is considered 'The Great Soul' or 'The Mahatma' in the eyes of millions of his followers worldwide. His fame spread throughout the world during his lifetime and only increased after his demise. Mahatma Gandhi, thus, is the most renowned person on earth.
Mahatma Gandhi Wiki Profile
Born
Mohandas Karamchand Gandhi
2 October 1869
Porbandar, Kathiawar Agency, British India
Died
30 January 1948 (aged 78)
New Delhi, Dominion of India
Cause of death
Assassination (gunshot wounds)
Monuments
Raj GhatGandhi Smriti
Citizenship
British subject (until 1947)Dominion of India (from 1947)
Alma mater
Alfred High School, Rajkot (1880–1887)Samaldas Arts College, Bhavnagar (1888)Inner Temple, London (1888–1891)University College London (1888–1889)
Occupations
Lawyeranti-colonialistpolitical ethicistnon-violence activist
Years active
1893–1948
Era
British Raj
Known for
Leadership of the campaign for India's independence from British rulenonviolent resistance
Notable work
The Story of My Experiments with Truth
Political party
Indian National Congress (1920–1934)
Movement
Indian independence
Spouse
Kasturba Gandhi​​(m. 1883; died 1944)​
Children
HarilalManilalRamdasDevdas
Parents
Karamchand Gandhi (father)Putlibai Gandhi (mother)
Relatives
Family of Mahatma GandhiC. Rajagopalachari (father-in-law of Devdas)
Awards
Time Person of the Year (1930)
Preceded by
Abul Kalam Azad
Succeeded by
Sarojini Naidu
Mahatma Gandhi Education 
When Gandhi was 9 years old he went to a local school at Rajkot and studied the basics of arithmetic, history, geography, and languages. At the age of 11, he went to a high school in Rajkot. Because of his wedding, at least about one year, his studies were disturbed and later he joined and completed his schooling.
He joined Samaldas college in Bhavnagar in 1888 at Gujarat. Later, one of his family friends Mavji Dave Joshi pursued further studies i.e. law in London. Gandhiji was not satisfied with his studies at Samaldas College and so he became excited by the London proposal and managed to convince his mother and wife that he will not touch non-veg, wine, or women.
"First they ignore you, then they laugh at you, then they fight with you, then you win." – Mahatma Gandhi
Off to London
In the year 1888, Mahatma Gandhi left for London to study law. Thereafter 10 days after arrival, he joined the Inner Temple, one of the four London law colleges, and studied and practiced law. In London, he also joined a Vegetarian Society and was introduced to Bhagavad Gita by some of his vegetarian friends. Later, Bhagavad Gita set an impression and influenced his life.
Civil Rights Movement in South Africa
In South Africa, he had a first hand experience of racial discrimination and prejudice directed at Indians and the injustice imposed on them. Gandhi himself experienced the humiliation and disgrace while in South Africa. Initially he was thrown off a train for refusing to travel in a third class coach while holding a first class ticket.
Other similar events including being barred from many hotels in South Africa moved him and encouraged him to work for Indian people there. As a result he extended his original period of stay to protest a bill passed by the South African government to deny them the right to vote.
In 1906, the Transvaal government launched a new act forcing registration of Indian population. Enraged by the act, a mass protest meeting was held in Johannesburg on 11 September in which Gandhi called on Indian people to resist the new act through non-violent and peaceful means. His methodology of Satyagraha (devotion to truth) was adopted by thousands of his followers and during the seven-year long struggle; thousands of Indians were jailed (including Gandhi), beaten and punished for striking and refusing to register.
Though the government successfully repressed the protest through its harsh methods, the impact of this protest forced the government to initiate for a compromise with Gandhi. Gandhi's idea of non-violence and truth developed during this period.
Indian Independence struggle and Gandhi (1916-1945)
Gandhi's Satyagraha started from Champaran and kheda, where the condition of farmers was worsened by landlords (mostly British) by imposing taxes and leaving them in an abject poverty. T he peasants were forced to grow cash crops instead of food crops necessary for their survival, and this led to a situation of famine there.
To end that devastating famine and poverty Gandhi organized detailed survey and study, based upon which he began leading the cleaning of the villages, building of schools and hospitals, encouraging villagers to condemn and combat many social evils including pardah and untouchability. Gandhi organized protests and strikes against the landlords that resulted in to the cancellation of the revenue hikes and collection of taxes until the famine ended.
Read More: Biography of Narendra Modi
Biography of Sandeep Maheshwari in Hindi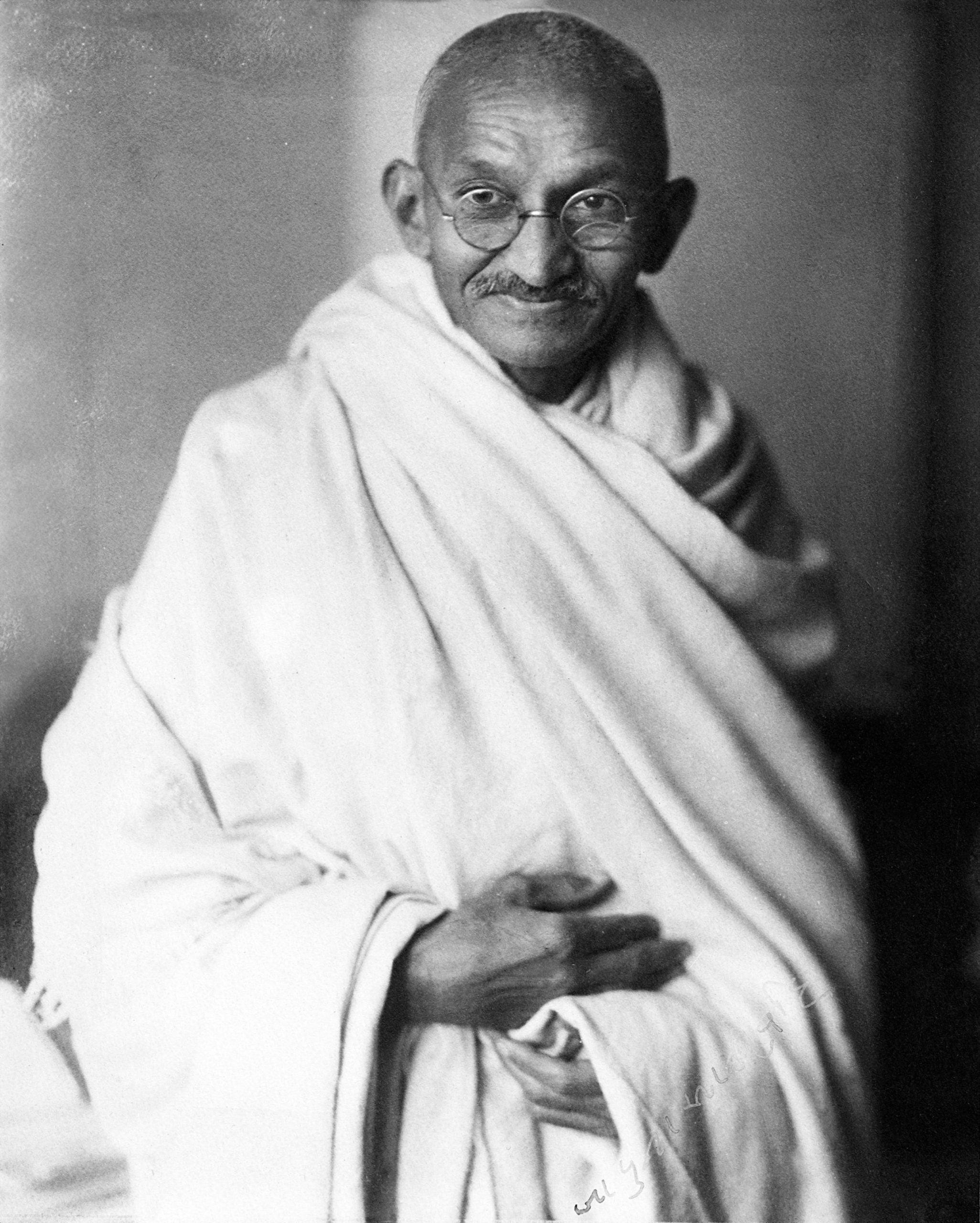 Mahatma Gandhi In South Africa
In May 1893 he went to South Africa to work as a lawyer. There he had a first-hand experience of racial discrimination when he was thrown out of the first-class apartment of the train despite holding the first-class ticket because it was reserved for white people only and no Indian or black was allowed to travel in the first class. This incident had a serious effect on him and he decided to protest against racial discrimination. He further observed that this type of incident was quite common against his fellow Indians who were derogatorily referred to as coolies.
Freedom and Partition of India
During world war II in 1939, Gandhi opposed the inclusion of India in the war stating that India can not be a part of the war being fought for the democratic freedom, while freedom was denied to India itself. Gandhi and other Congressmen intensified their movement for a complete freedom demanding the British to 'Quit India'. It was the most vigorous movement in the history of Indian Independence struggle in which thousands of freedom fighters were killed, imprisoned and injured and violent clashes broke in every part of India.
Gandhi and the committee of congress were arrested on 9 August 1942, and Gandhi was held in Aga Khan Palace for 2 years. During that period his wife Kasturba Gandhi died after 18 months of prison on 22 February 1944. At the end of the world war, Gandhi called off his struggle. Time had come to see an Independent India.
FAQs Related to Mahatma Gandhi
When did Gandhi ji win Nobel Peace Prize?
Gandhi Ji never won Nobel peace Prize although Gandhi was nominated in 1937, 1938, 1939, 1947, and, finally, a few days before he was murdered in January 1948. 
Who established the National Indian Congress (NIC)?
On 22 May, 1894 Gandhi established the National Indian Congress (NIC) and worked hard to improve the rights of Indians in South Africa.
When Gandhi Ji returned to India from South Africa?
Gandhi Ji returned to India in 1915 permanently and joined the Indian National Congress with Gopal Krishna Gokhale as his mentor.
Who was the political Guru of Mahatma Gandhi Ji?
Gopal Krishna Gokhale was political guru of Mahatma Gandhi.