MUKESH AMBANI BIOGRAPHY
On April 19, 1957, Mukesh Ambani was born in Yemen to the founder of Reliance Industries, Dhirubhai Ambani and Kokilaben Ambani. Mukesh did not get to live for long in Yemen, and soon his family moved back permanently to India. He has a younger brother, Anil Ambani and two sisters, Nina Bhadrashyam Kothari and Dipti Salganonkar.
Mukesh Ambani Wiki Profile
| | |
| --- | --- |
| Birth | April 19, 1957 (Aden, present-day Yemen) |
| Age | 63 years (on 2023) |
| Occupation | Chairman and Managing Director (Reliance Industries) |
| Wife | Nita Ambani |
| Children | Anant Ambani (Son), Akash Ambani (Son), Isha Ambani (Daughter) |
| Net Worth | US$72.2 billion as of 13 July 2020 |
| Nationality | Indian |
| Parents | Dhirubhai Ambani (Father), Kokilaben Ambani (Mother) |
| Siblings | Anil Ambani (Brother), Nina Bhadrashyam Kothari (Sister), Dipti Dattaraj Salgaocar (Sister) |
AMBANI FAMILY MEMBERS
Dhirubhai Ambani: The founder of Reliance Industries, the business tycoon was the son of a school teacher who had the spark and ambition of doing something great in his life. In 1958, this brought him back to India from Yemen with his son Mukesh Ambani and his wife Kokila Dhirubhai Ambani.
Kokila Dhirubhai Ambani, Mukesh Ambani's mother is someone raised in a conservative yet supportive Gujratei family who encouraged her to pursue her education. At the age of 21, she got married to a businessman from Mumbai, Dhirubhai Ambani and travelled to Yemen with him where she gave birth to their first child Mukesh and after they returned to India is when they extended the family with Anil, Deepti, and Nina. While Mukesh has shifted to their new house in Mumbai with their family, Kolila stays in Ambani's 14 stories old house in Sea Wind.
Anil Ambani: Brother of Mukesh Ambani, Anil Ambani is the chairman of Reliance Group or Reliance ADA Group, the result of the demerger of Reliance Industries Limited or RIL in July 2006. Both the brothers, Mukesh and Anil were managing the company well, when in November 2004 the elder brother admitted having differences with his brother over ownership issues. Leading from this was a situation when the Reliance Industries Limited was demerged between both the brothers. The younger brother of Mukesh Ambani has a net worth of zero and he is declared bankrupt in front of UK court as of February 2020.
Nita Ambani: Mukesh married Nita Ambani in 1985 after visiting a place where she was performing. Mukesh and Nita have two sons; Anant and Akash, and a daughter, Isha. Nita Dalal before marriage and now, Nita Ambani is a graduate in Commerce. She is the founder and chairperson of the CSR arm of Reliance Industries, Reliance Foundation. They are proud parents to three children – son, Anant Ambani, Akash Ambani and daughter, Isha Ambani.
Nina Bhadrashayam Kothari and Dipti DattarajSalgaocar are two sisters of Mukesh Ambani. The elder daughter of Dhirubhai, Nina Ambani got married to Bhadrashyam Kothari and is currently a Chairperson of Kothari Sugars and Chemicals Ltd. She is also has a daughter, Nayantara (Married) and son, Arjun B Kothari.


Mukesh Ambani Net Worth
(RIL), a Fortune Global 500 company and India's most valuable company by market value. According to Forbes and Bloomberg Billionaires Index, Ambani's net worth is estimated at $83.6 billion As of February 2023, making him the richest person in Asia and the 12th richest person in the world.
MUKESH AMBANI BUILDING
Antilia is the residence of Mukesh Ambani. The private 27-storey building in Mumbai, which was valued at US$1 billion, was the most expensive private residence in the world at the time it was built. The building requires a staff of 600 for maintenance, and it includes three helipads, a 160-car garage, private movie theatre, swimming pool, and fitness centre and has a running cost of 2.5 crores per month.
AMBANI SUCCESS STORY
Before his success story, we will talk about Ambani's life story. Born on 19 April 1957 in the British Crown colony of Aden (in present-day Yemen) to Dhirubhai Ambani and Kokilaben Ambani.
lived only briefly in Yemen because his father decided to move back to India in 1958, to start a trading business that focused on spices and textiles. The latter was originally named "Vimal" but later changed to "Only Vimal."
His family lived in a modest two-bedroom apartment in Bhuleshwar, Mumbai until the 1970s. The family's financial status slightly improved when they moved to India but Ambani still lived in a communal society, used public transportation, and never received an allowance. Dhirubhai later purchased a 14-floor apartment block called 'Sea Wind' in Colaba, where, until recently, Ambani and his brother lived with their families on different floors.
It is now his old house as he has shifted with his wife and son to Antilla.
His role in the RIL has been from a very age.
Also Read: Biography of Mukesh Ambani in Hindi
Mukesh Ambani Education
• Ambani attended the Hill Grange High School at Peddar Road, Mumbai, along with his brother and Anand Jain, who later became his close associate.
• Another feather in the cap was when he received BE degree in Chemical Engineering from the Institute of Chemical Technology.
• Ambani later enrolled for an MBA at Stanford University but withdrew in 1980 to help his father build Reliance, which at the time was still a small but fast-growing enterprise.
Mukesh Ambani Career
• Back in India, Dhirubhai was left on his own to build his company and required the support of his son and hence he called Mukesh back to India from Stanford to take care of the yam manufacturing project.
• In 1981 he started to help his father Dhirubhai Ambani run their family business, Reliance Industries Limited which had already expanded so that it also dealt in refining and petrochemicals.
• After joining the company, he contributed to building it from scratch with the principle of everybody contributing to the business and not heavily depend on selected individuals.
• Dhirubhai treated his son as a business partner and allowed him to make decisions. This principle came into play after the then-executive director Rasikbhai's death and Dhirubhai suffering a stroke in 1986.
• On 6 July 2002, Mukesh's father died after suffering a second stroke. This led to elevated tensions between the brothers as Dhirubhai had not left a will for the distribution of the empire in 2004.
• Mukesh and Anil Ambani's mother intervened to stop the feud, splitting the company into two, Ambani receiving control of Reliance Industries Limited and Indian Petrochemicals Corporation Limited, which was later approved by the Bombay High Court in December 2005.
• Ambani directed and led the creation of the world's largest grassroots petroleum refinery at Jamnagar, India.
• In December 2013 Ambani announced, at the Progressive Punjab Summit in Mohali, the possibility of a "collaborative venture" with Bharti Airtel in setting up digital infrastructure for the 4G network in India.
• Following this on 18 June 2014, Mukesh Ambani, while addressing the 40th AGM of Reliance Industries, said he will invest Rs 1.8 trillion (short scale) across businesses in the next three years and launch 4G broadband services in 2015.
• In February 2016, Ambani-led Jio launched its 4G smartphone brand named LYF and by June 2016, it was India's third-largest-selling mobile phone brand
•    The release of the service Reliance Jio Infocomm Limited, commonly known as Jio, in September 2016 was a success, and Reliance's shares increased.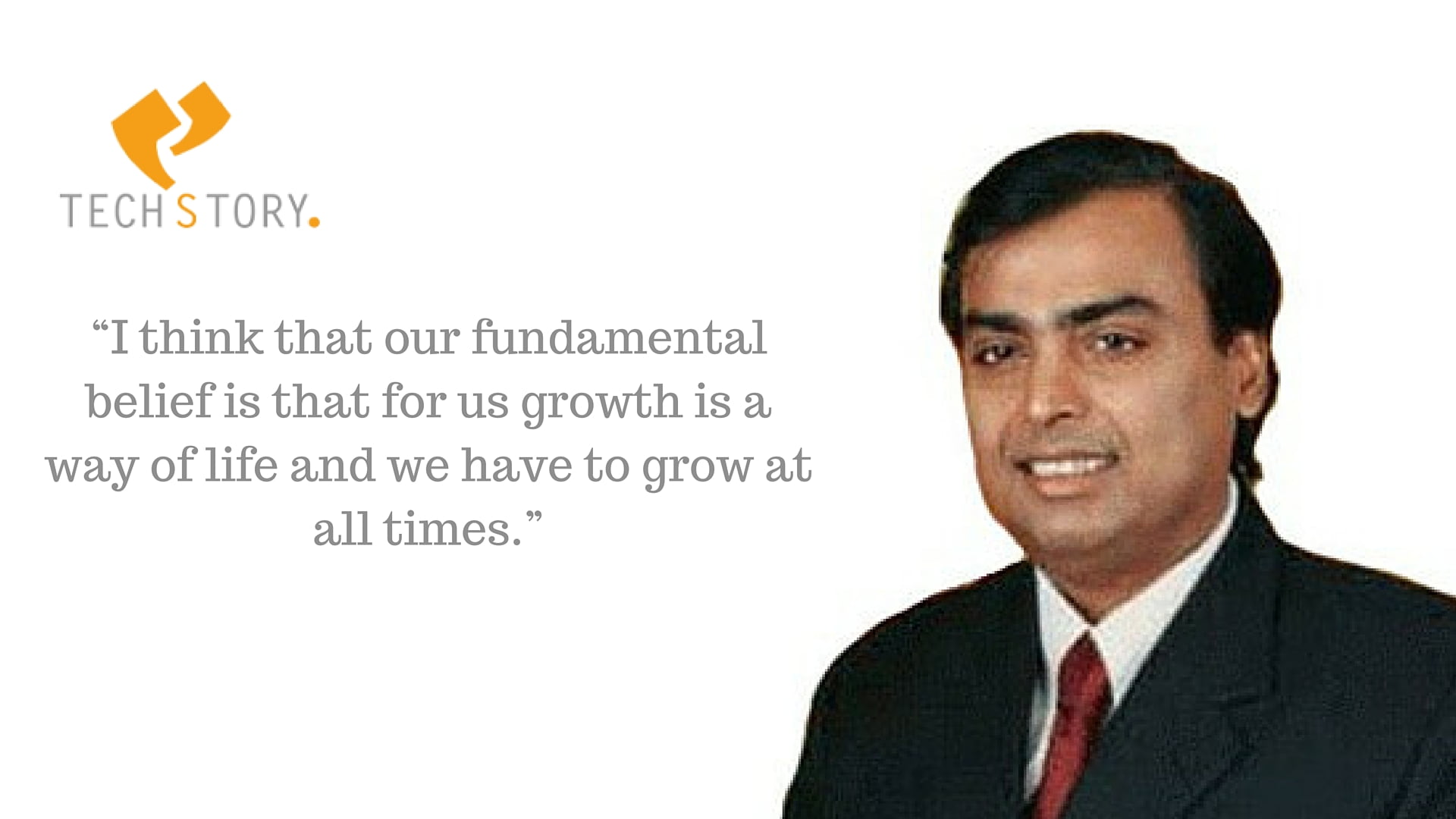 Mukesh Ambani Awards
With his exceptional business capabilities, Mukesh Ambani has emerged as one of the most inspiring figures for people all around the globe. For his entrepreneurial abilities, he won the EY (Ernst & Young) award for Entrepreneurs of the Year in 2000. He was awarded the Business Leader of the Year and Businessman of the Year in 2010. Recently, Mukesh Ambani was also given the Othmer Gold Medal in 2016 for his philanthropy works.
Mukesh Ambani Social Profile
FAQs Related to Mukesh Ambani
What is the profit of Ambani?
What is the profit of Ambani?
Salary Mukesh Ambani
(RIL), a Fortune Global 500 company and India's most valuable company by market value. According to Forbes and Bloomberg Billionaires Index, Ambani's net worth is estimated at $83.6 billion As of February 2023, making him the richest person in Asia and the 12th richest person in the world.
How does Mukesh Ambani spend his day?
He reaches work by 10-11 am in the morning and spends almost 12 hours in a day, devoted to his work, for he comes back only by 11 pm.
Why Mukesh Ambani is a successful entrepreneur?
He has the leadership skills, visions, management abilities, and revolutionary attitude that helped him turn Reliance into a business empire. Mukesh was born to Dhirubhai and Kokilaben Ambani April 19, 1957, in Yemen.
Who is No 1 richest person in the world?
Bernard Arnault, chairman of LVMH, is the richest person and the richest man in the world with a net worth of $186 billion. …( feb 2023)