When two lives have become one, it's time to celebrate. And the best way to celebrate is to embark on a honeymoon where all the hustles of marriage turn into a serene escape and a chance to get to know each other better.
If you pick a wonderful spot for your honeymoon, it will surely be an experience you will remember for the rest of your life.
Here in India, the locations are exotic, natural, and absolutely stunning.
If you are looking for the best places to honeymoon in India in December, we have enlisted some suggestions for you here. 
Best Honeymoon Places in December
#1. Andaman and Nicobar Islands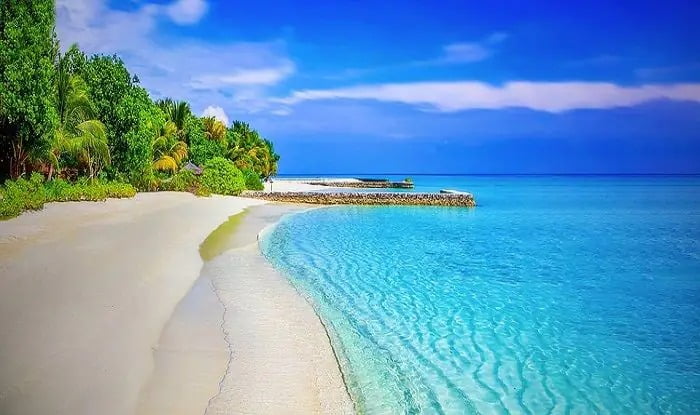 The Andaman and Nicobar Islands of India offer the world's most beautiful and stunning beaches. With just the start of winter during December, the place is just right for a honeymoon. The cold blue sparkling water, gentle waves, scenic beauty and cuisine are sure to set in the perfect romantic mood. With lush forests and exotic wildlife, this is a perfect place for a nature-loving couple. Rightly called Heaven on Earth, its pristine beauty is mostly untouched by humans. This mystic island is one of the best places India if you are planning your honeymoon in December. If not, add it to your bucket list anyways- you are sure to have a great time with your spouse.
Couples on honeymoon can enjoy the annual tourist festival in December and January.
Underwater marine life is astoundingly beautiful, and if this is the place you go to, snorkeling is a must to fill your senses with the beauty of underwater life and the coral reefs. Bioluminescence is a treat to the eyes and the soul.
Traveling to Andaman and Nicobar from the mainland of India or abroad is fairly easy by air. Ferries operate once or twice every week. Indian cities such as Kolkata, Bengaluru or Chennai are the only places through which the island is accessible.
Yet again, local joints host the most mouthwatering seafood delicacies. The food is quite on the expensive end; however, with local guides, we can just about locate the best to our taste and wallet.
A gathering of 572 brilliant and lush islands, the place is an exotic host with luxurious hotels and resorts to choose from. For an uninterrupted and calm stay, Sea Princess Beach Resort in Wandoor would be a great choice; the high-end Silver Sand Beach Resort or the local stay options are great to enjoy and dwell in the moments.
Medical shops and hospitals are available in bigger cities like Port Blair. However, it's advisable to carry any prescribed medicines, and specific brands might not be available.
#2. Kerala
Tropical beaches, majestic elephants, backwater lakes, incredible customs and traditions- Kerala is one of the must-visit honeymoon places in India in December. With the temperature just right at 30ºC to 23ºC, the time is ideal for planning a post-wedding holiday. The beaches here are calm, soothing and very relaxing. It is a great place for newlyweds who are looking for an opportunity to know one another.
With 14 districts offering unique wonders to behold, the place is hard to unravel in a week's time. December welcomes special attractions such as theyyam during the 'Pattulsavam' festival and the Annual Kambala bull race at Bekal, Guruvayur Ekadasi in Thrissur, beach carnival at Kovalam, 'Karthigai'- the festival of lights and year-end carnival at Kochi.
For a honeymoon in Kerala, the newlyweds may have to choose the nature of the trip. If to be part of festivities head to Thrissur or Bekal in December; for shopping and carnivals Kochi and Thiruvananthapuram is a go-to; if the vacation desires, the shimmering backwaters head to Allepey.
Kerala is easily accessible by air, water and land. It is well connected through the vast network of the railway and highways. There are 4 international airports for visitors taking a flight.
Restaurants, hotels, lodges and government rest houses are widely available throughout the state of Kerala.
A wide variety of seafood and local cuisine is available to experience. The dishes made of coconut are a speciality of the Kerala state, and the cuisine is generally spicy.
Medicines and hospital facilities are widely available and easily accessible.
#3. Goa
Goa is known as one of the finest and romantic beaches of India. The beauty of this place is something you wouldn't want to miss out on. This is a great location to visit in the months of December as they organize the best Christmas and trance parties you shall ever see. Spending time with your loved one here is surely worth experiencing. North Goa has more abodes to fill your hearts with its breathtaking beauty.
The beaches, Basilica of Bom Jesus, Temple of Bodgeshwar and famous marketplaces keep us to the place whereas South Goa has the beautiful Dudhsagar Waterfalls and the alluring monuments from the times of the Portuguese. Interestingly, Goa celebrates spring during December while the rest of the country is in winter!
The butterfly beach and all the other multitude of beaches offer some cosy and private moments for couples. One can opt for a romantic boat ride at the spot and watch the sunset together.
The period between October and February is springtime in Goa, thus making December a favourite pick for a picturesque outing on a honeymoon date.
Dabolim Airport is approximately 26 km away from Panaji, the capital of Goa. NH4 and NH17 offer a memorable ride if the travel is by car. There are well-linked railway stations- Vasco da Gama and Madgaon.
A 4 /5-day trip would be ideal to visit one of the most beautiful beach destinations in the world.
Lay back and relax at a place where the east meets the west. The cuisine is more so in the same manner- exquisite yet diverse. Don't forget to try BEBINCA, Goa's favourite sweet and coastal delicacies!
#4. Coorg
Coorg, also known as the Scotland of India, is rich in its natural surroundings, scenic beauty and pleasant weather. Counted amongst the top honeymoon destinations in India in December, it has great tourist attractions with its great mountains, waterfalls, beautifully adorned Tibetan monastery and coffee plantations. The serene aura makes it the right place for couples who are looking for a time of relaxation and enjoyment.
Coorg offers a lot of economical options for a couple to enjoy the most of their time. They can indulge themselves in adventure sports such as trekking, river rafting, bird watching, or may follow more sublime activities like sightseeing at the coffee plantations, Pushpagiri Wildlife Sanctuary or Dubare Elephant Camp. The couples can even camp under the open sky if they want to strike dreams from the bucket list!
Coorg is accessible by road; however, couples travelling from far of places should reach the city of Bangalore by bus or air, prior to a road trip to Coorg. You can also reach Coorg by train, in which Mysore would be your closest railway station, and the rest of the journey ought to be done by road.
Restaurants and lodges of all ranges are available for a comfortable stay.
While in Coorg couples can enjoy the rich local cuisine which includes the Pandhi curry, bamboo shoot curry, which is among the favourites of the local people.
Medicines and hospital facilities are available in Coorg in case of emergency.
#5. Lakshadweep Islands
The picturesque Lakshadweep Islands is a popular tourist destination. It is also one of the best places to visit in December for honeymoon and romantic getaways in India. The cold sandy beaches, rich culture, the flora and fauna and the calm waves of the sea are sure to transport you to an entirely different world. Located off the coast of Kerala, these 'hundred thousand islands' are a great getaway for two people in love. With sun-kissed beaches and coastal lagoons, the place is unparalleled in beauty.
There is enough to keep one going for a week-long trip to the islands. Some of the places to visit are Bangaram, Kalpeni, and Kavaratti. The winter months, September to February, will offer pleasant weather for the stay.
Water sports activities such as scuba diving and snorkelling can be performed at Kadmad, Kavaratti and some of the islands in the cluster.
Bangaram Island Resort is one of the few good accommodations available on the island other than local guest houses or a few private run resorts.
A thing to note is that one needs government permission to visit Lakshadweep.
Air India operates flights to Agatti from Kochi, and by sea, there are various passenger ships operating between Kochi and the islands.